ISTblast Downdraft Tables for Sanding
ISTblast DD Series Industrial Downdraft Tables are highly reliable and capable of taking on the most demanding industrial applications. DD series is able to capture, collect and force fumes out from the source without compromising indoor air quality.
Systems are highly mobile and can be moved around workspace without need of costly ventilation-duct installation. DD Series available in many sizes to suit your needs. Smaller sizes can be bundled together to create larger work surfaces.
DD series comes equipped with:
Multi-level spark baffles
Dual exhaust silencers
Reverse-pulse filter cleaning system
Common Applications
Buffing
Powder mixing
Sanding
Soldering
Welding
Deburring
Spray painting
Grinding
Plasma cutting
Odor control
Utility table
How It Works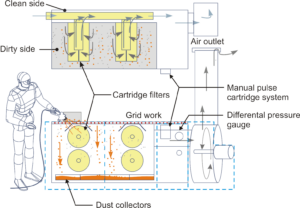 Downdraft Table Features
Custom downdraft table sizes are available upon request
Simple, safe and rapid cartridge replacement: cartridge comes with rectangular adapter for easy handling and error-free installation.
Dual workstation enclosure
Grounding Lug
Includes side panels, middle separator panels and top panel
Extended 12'' overhang
Activated carbon granules in perforated metal canisters that slide inside filter cartridge
Plexiglass available
Backdraft hood
Light kit
Filter cartridge options
Side and back walls
Hinged sides
Middle separator
PVC matting
Aluminum/ Fiberglass grating / Steel bar grating 2'' high
Casters
Mini-helic gauge
Metal mesh pre-filters
Spunbond polyester cartridges
Additional cartridges
Stack silencer
E.P.A filter